Lapin Lukko Boxing Club in the heart of Lapland
LAPIN LUKKO SINCE 1953
Is your goal to train efficiently, with motivated and expert guidance, in a top-comfortable team and cheaply without large investments? If you answered yes, boxing could be your form of fitness or even your competitive sport.
In Lapin Lukko boxing division, there are over hundred enthusiasts of different levels and fitness, as well as competitive athletes of all ages. Everyone can train and exercise on their own level, according to their own skills, more or less purposefully.
You are Welcome! Our boxing gym is right in the middle of the city of Rovaniemi, old post building Postikatu 1. (Yellow big building right opposite of buss station and next to the railway station.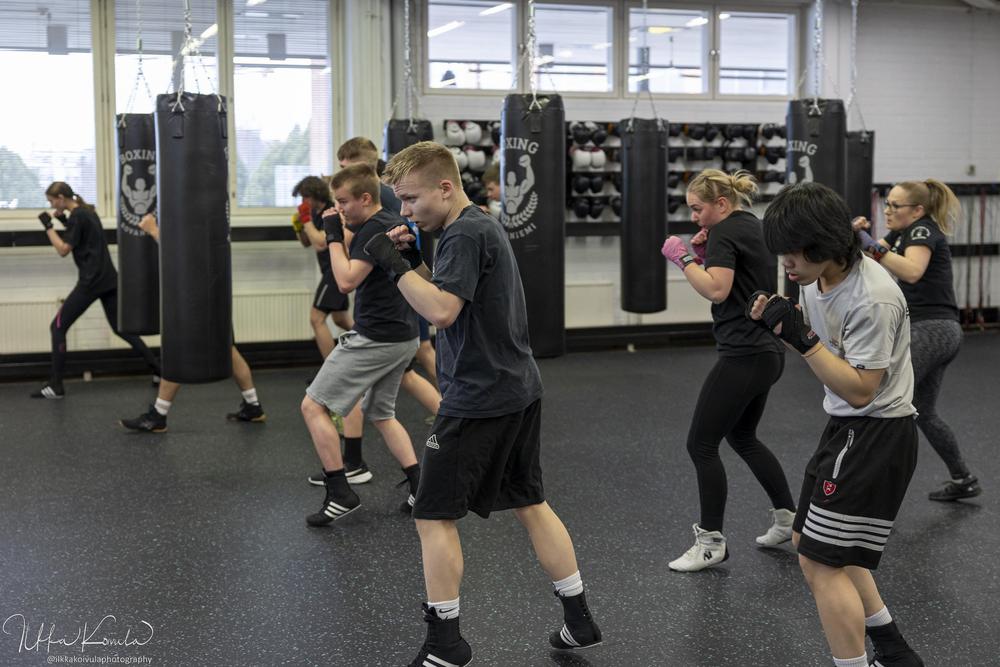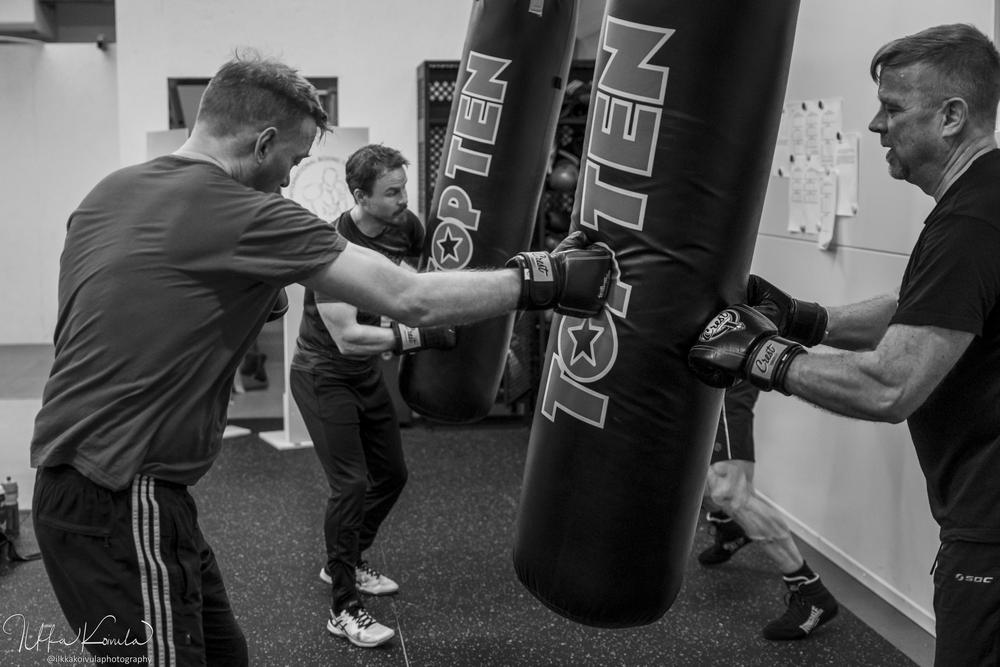 Fitness boxing is training without competitive goals.
Fitness boxing is suitable for people of all ages according to their own fitness and skill level.
For training you only need indoor exercise equipment, i.e. a t-shirt, sweatpants, indoor sneakers, a drinking bottle and a cheerful spirit. 
Wristbands are the first thing to buy when you're purchasing your own equipment. Wristbands protect wrists, knuckles and fingers from injuries. 
Boxing gloves can be borrowed from the gym for each class in the beginning, but we highly recommend that each customer buys their own gloves as the hobby continues.
Training schedules
The fall season begins in August and ends just before Christmas. In the fall and spring seasons adults train three days a week; on Mondays, Wednesdays and Fridays.


The language used in our fitness boxing classes is Finnish.
How to choose the right class for your fitness and skill level?
Fitness boxing BASIC
Suitable for beginners (less than a year experience in boxing) or if your fitness level is not at its best. Classes consist of basic boxing techinques and basic muscle-strengthening exercises. The rhythm of the class is kept light, technique-oriented. No jumping or running in this class. 
Attempting fitness boxing for the first time in the middle of the season? Please read the info "For the beginners" below. 

Fitness boxing DEVELOPED
The class is suitable for fitness boxers who already know the basic techiques. 
In the developed class, you train faster than in the basic class, including running and jumping, as well as more demanding muscle-strengthening exercises. 

Fitness boxing TEMPO
The class is suitable for those who already know the basic techniques.
This class is our hardest and fastest fitness boxing class. No sweat drops are spared in this class.  

For the beginners
If you are participating fitness boxing as a beginner in the middle of the season (after August in fall season or after January in spring season) or you are looking for a beginner level classes to refresh your memory in basic techniques, we highly recommend to start from our one day beginners' course before attempting our regular week classes. 
The one day beginners' courses will give you a start up in fitness boxing so it will be easier fot you to catch up with training in our regular classes. The beginners' courses are arrenged in the beginning of every month during fall and spring seasons. 
YouTube-videon näyttäminen ei onnistunut. Tarkista markkinointievästeiden hyväksyminen ja selaimen yksityisyysasetukset.